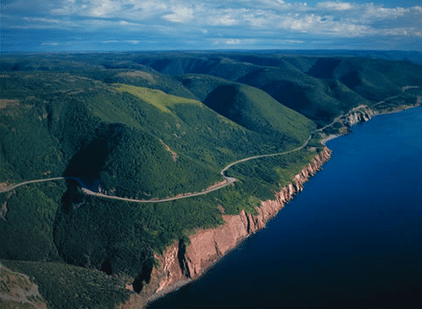 The World's Most Beautiful Drive – When you dream of road trips, nothing can top driving the 288 kilometres around the complete loop of the Cabot Trail. Winding coastal roads provide surprises and new adventures around every corner. Make a few days of it by stopping to camp at a few sites
Hikes – Of course, you'll want to stop and stretch your legs. Theres no better place to do this than on one of many trails. The hiking trails are very well marked and maintained, and you can also choose what suits your hiking style based on length, distance and terrain difficulty. No matter which trail you choose, you're sure to be rewarded with an amazing view upon reaching the summit. Consult Parks Canada's list of trails here: https://www.pc.gc.ca/eng/pn-np/ns/cbreton/activ/randonnee-hiking.aspx
Meat cove – Be sure to stop in this rural fishing community which is home to less than 100 people and is the most northernly settlement in Nova Scotia. It's more than worth the long drive to arrive at what is literally the end of the road. Spend an afternoon exploring the pebble beach, or trying to spot whales from the cliffs' edges.
Lobster Rolls – If there's a better lobster roll to be found, this writer hasn't tasted it on his travels yet. No surprise either, as the Maritimes area is known for its excellent and authentic seafood.
Glenora Distillery – Home of the Glen Breton Rare, which is North America's first single malt whiskey. Take a tour to learn about the history of the distillery and the single malt process, or take part in a whiskey tasting seminar.
Music – You'll be hard pressed to not find a local "Ceilidh" (Gaelic for party) every night while passing through communities around the Cabot Trail. Before you know it, you'll be foot stomping along to fiddle music and learning to step dance from locals.
Animals – Keep your ears open and eyes peeled while hiking the trails around Cape Breton Island, and you're sure to spot some amazing animals, such as moose, eagles, coyotes and even bears!
Dramatic scenery: It's hard to put into words the beauty of Cape Breton Island.
Whale watching: Tourists from around the world come to the area for a chance to see a variety of different whale species.
Cape Breton Culture – The Celtic spirit is alive and well on Cape Breton Island.