There are two types of people in this world: those that love Banff, and those that don't yet know that Banff exists. Which, come on, you don't know where Banff is?!
Psssst…It's in Alberta…which is next to British Columbia…which is in Canada…Above the United States.
Either way, this blog's journey into the magical world of the famed city will be enough for you to say:
"I need to go there (again) right now!"
1. The Banff Centre
The Banff Centre is a lovely little, quaint, small, adorable GLOBALLY RESPECTED arts, education, and cultural institute. Whew! It is also a mouthful. The Banff Centre hosts artists from around the world and helps them hone their crafts, whether it is music, visual arts, theatre, or writing. This makes for a pretty cool community of artists, and guess what? You're invited. You can come to the Centre to see exhibitions, concerts, plays, and films all year round.
2. The Gondola
This gentle metal giant will take you places. As long as you want to get to the top or bottom of Sulphur Mountain. The easy ride may be a bit more expensive than other gondolas, but it is worth it for the view, and if you don't want to walk up the mountain.
3. The Hot Springs
There is no better way to relax than floating in hot mineral water surrounded by the Canadian Rockies. At least no better way that I can think of. You can soak up the steam in the morning all of the way into the night in the springs, with opening times until 11:00pm on some nights.
4. The Mountain after Mountain after Mountain after Mountain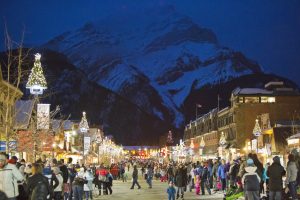 You only one mountain to make for a breath-taking skyline. Banff goes above and beyond this quota and delivers peak after peak of glorious mountain. It is an incredible sight, and one not easily forgotten. This is probably the best "first date" spot known to man.
5. The High Possibility of "Movie Moments"
Snowflakes gathering on your nose while sipping hot chocolate? Hot tubbing with a mountain sunset backdrop? How about eating Beavertails while standing beside a mountie? These are just a taste of your movie-moment options while in Banff. With more culinary delights than you can handle and the cutest ski village in Canada: Banff is basically an eternal movie set waiting for its romantic and good-looking star (psst…it's you!)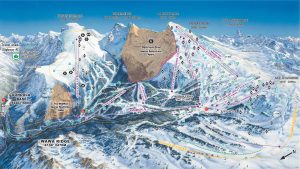 There you have it. These five things go above and beyond your expectations of a good winter vacation (or summer, or spring, or fall), and help Banff live up to its stellar name.