Saint-Germain-en-laye is a small city just west of Paris, but have I got some reasons for you to visit this secret French gem.
The History
Sitting just twelve miles from the centre of Paris, this suburb was founded in 1020 by King Robert the Pious when he set-up a convent on the site of today's church. From 1661-81, the city became the principal royal Residence, and in 1688, James II, King of Scotland and England, moved in. There was a lot of conflict happening back home, and James decided to spend the rest of his days in the picturesque area. The Chateau has a mostly happy (and very royal) history behind it, and produced a very friendly (and high-class) community because of it.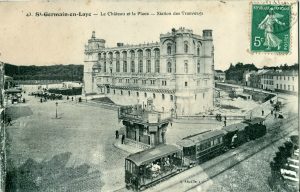 The Chateau
The original castle was built in 1122: that is some old castle. In 1348, the old castle was knocked down, and the new one was put up. Now, it houses the Musée d'Archéologie Nationale (National Museum of Archaeology), and sits on the edge of a 2.4 km stone walkway leading through the park, to a terrace with a knock-out view. And I mean knock-out as in you can see Paris. The Chateau is surrounded by lively restaurants, cafes, theaters, and shops that go late into the night and somehow still wake-up early. You can often get your night cap and early morning espresso at the same place.
The Food
Just because you left Paris doesn't mean you left the art of French cooking behind. It is alive and well in Saint-Germain-en-Laye, and often at a slightly better price. It is a big enough city that you have a choice of cuisine to eat every single meal, but small enough that trying out every single bakery is realistic. How else are you supposed to know which one is your favourite?
The Shops
With elegant, tree-lined streets and cobblestone pathways, you can't take a wrong turn in Saint-Germain-en-Laye. From high-end independent shops to slightly lower high-end shops, you may not love all of the price tags, but looking around is just as fun. It also makes finding something nice that much more of an accomplishment. On Sundays, the main square turns into a giant market full of food, clothing, jewelry and art, and you can spend hours there looking around. You can then take a break at a local outdoor patio, sip on a chocolat chaud and people-watch the rest of the afternoon.
The Carnival
Every single summer for nearly two months, "La Fete des Loges" takes over a clearing in the Saint-Germain-en-Laye forest and fills it with roller coasters, games, and more crepes, waffles, and ice cream than you can handle. Seriously, there is even a blue ice cream called "Les Schtroumphs" (what we would call "the Smurfs"), and a red one that is Redbull-flavoured. It is big, lots of fun, and there is a small train that takes you from downtown Saint-Germain-en-Laye to the festivities. Highlight: on some of the higher rides, you are able to see the Eiffel Tower and other Paris lights.
The Park
The view! THE VIEW! Did I mention the  view? The Saint-Germain-en-Laye park is a huge, beautiful area that ends in a drop-off with a very intensely beautiful view. There are vineyards below, and you can trace the Seine with your hands right into the romantic capital. It is a great place for a picnic, a stroll, a jog, and even a friendly soccer game. When you get hungry there are several snack shops in the park to serve you, and one even has a merry-go-round beside it if the mood ever strikes you.
Added Bonus: You also get a large loop of the Seine here, so you don't ever have to leave this little slice of heaven for Paris. Ever.
So when you have a day or two while in Ile-de-France, make sure to check out the wonderfully tourist-free-(ish) Saint-Germain-en-Laye. You will not be disappointed.