You can't build Rome in a day, but you sure can take over Florence.
Florence is a charming Italian city located in Tuscany, full of wide rivers, impossible-looking bridges, and more culture than you can fathom.
Your first stop here should be in the Uffizi Gallery. "But why should I stop at something that sounds like a cat sneezing?" you ask. Because the Uffizi (meaning offices) Gallery was created by the powerful Medici Family, and man, oh man did they go all out with just about everything. This Gallery shows some of the best Renaissance art, holds close ties with Leonardo Da Vinci, and presents a sneak peek to the birth and growth of Italy.
Next, and you don't have to walk very far, head to the Piazza della Signoria for some pop-up shops, the wonderfully real-looking fake "David", and the lively bustle of everyday Italian life. You can sit here and enjoy the warm sun, people-watch, and take some pictures of the statues surrounding the square.
Then, just a ten minute walk north (less if you are a speed-walking all-star) and you will arrive at the Santa Maria Cathedral in Piazza del Duomo. This medieval cathedral is a feast for the eyes, with its detailed facade, bell tower, and impressive dome. Take your time to walk around the building that took 140 years to build, and be so glad you didn't have to do any of the work.
The Accademia Gallery is home to the one and only (original) "David" by Michelangelo. This is why he lives pretty much right by the entrance of it, so everyone can fan-girl over him immediately before then then appreciating the rest of the works (or at least pretending to).
Ponte Vecchio is one of the coolest bridges in the world. Not because it is huge, or the most modern technical advancements. The reason it is so cool is because it still has shops along the bridge, as once used to be common. And these shops aren't just on it, they're hanging off of it. To be honest, I don't know how this bridge is still standing. But I don't have to: I can just admire its beauty, eat a pizza, and think to myself, "I'm in Tuscany and everything is amazing."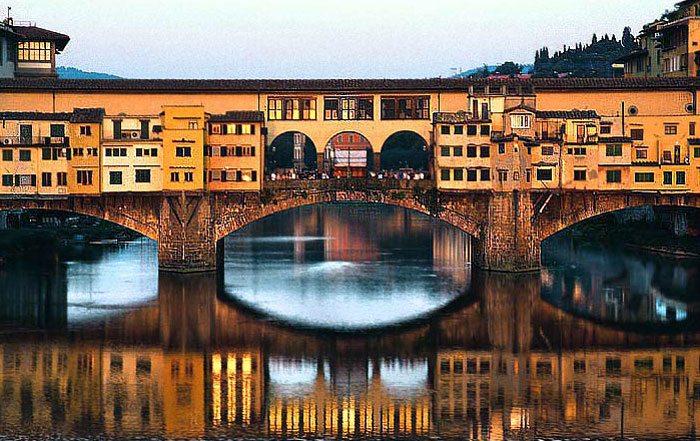 There is plenty more that Florence can offer, including stunning gardens, museums, shops and gelaterias, and no matter which one you choose to visit, each will lead to a smile on your face. Because it's Florence.