Harlem, a neighbourhood in northern Manhattan, has often been portrayed in movies as unsafe, shady, and a place where nothing but crime happens.
What I'm here to tell you is that there is a lot more to Harlem, and it is not only a lot safer, but a lot jazzier than you'd ever imagine. Here are three things to draw you north on your next trip to New York City:
1. The Apollo Theater
The Apollo is as well known as sliced bread. Or at the very least rye bread. You may know the name without really knowing much about it, right? Well, the Apollo Theater was built in 1913, and it became the birthplace and home of many talented musicians. This includes Ella Fitzgerald, Aretha Franklin, Stevie Wonder, James Brown, Michael Jackson, and Elton John. This venue seats 1506 people, and to this day holds an amateur night where anyone and everyone can get up and hit a note. Or, at least try to.
2. The Comforting Soul Food
I don't know how much I can write about the drop-dead delicious soul food here before my keyboard becomes completely covered in saliva. You've got oxtail, macaroni and cheese, smoked turkey neck and beans, the best salmon I've had in my life, and so much more. Most soul food restaurants offer an overwhelming menu with hot, cold, healthy, and "definition of comfort food" food. So go with your gut, and nose, and eyes on this one: get some food that feeds the soul.
3. The Live Jazz
Some like it hot. Others like it smooth and cool. Some don't even know they like it yet, but the jazz scene in Harlem knows exactly what to give their audiences each and every time. You can find live jazz music nearly any time of the day, at tons of different types of bars, restaurants, and clubs. Like the Apollo, a lot of clubs let amateur musicians try their stuff out on stage, because Harlem jazz is inclusive, fun, and open to all.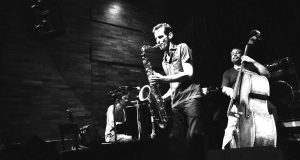 There you have it, there are three very good reasons to head up to Harlem for an afternoon, a day, or even a week.
Harlem's history looks like a bit of a roller coaster ride, with a lot of ups and downs. But, like only the best roller coasters, Harlem ends leaving you safe, exhilarated, and wanting another round.