A lot of us go skiing or snowboarding (and let's not forget snowblading) in the winter, but what happens to these hills after the snow is gone?
Because there are so many possible answers to this question, let's narrow our focus a little bit: BLUE MOUNTAIN. I picked Blue Mountain because I drew names out of a hat, and out of every single mountain in the world I just so happened to choose the one I know best.
Ski hills are almost always open for the summer, and its time you knew how to take advantage of their beauty all year long.
This year, Blue Mountain has started the hashtag #90daysofsummer. If you are like me and have trouble understanding hashtags, this means there are three months of summer to fill up, and they want you to spend at least a little bit of it there.
So, leave those snow boots tucked in the closet and dig your teeth into some saucy summer adventures in the mountains! This three course meal of fun will make you feel glad you didn't stay at home.
1. Base Camp Appetizers
These are more than just a tray of amuse-bouches. These are full-on loaded nachos. Guacamole? It's already included. Whether you want to try the climbing wall, Apex bag jump, putting course, open-air Gondola, the Ridge Runner course, Wind Rider Triple Zips Zipline, or just jump off docks and canoe in the lake: they have got you prepared.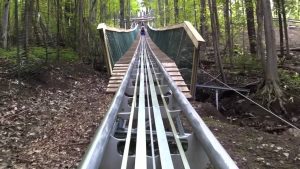 2. Mid-Station Attractions for that meaty main course
For the main meal they've kept it nice and straightforward in a low-ropes course. The whole family can enjoy this confidence-building course, while looking really cool doing it.
3. Summit Activities: this is like the cheese plate of fun
Cheese plate and fun are synonymous in my world, so you know that this part is going to be good. There is a high ropes course, mountaintop Segways tours, and of course your hiking and biking trails.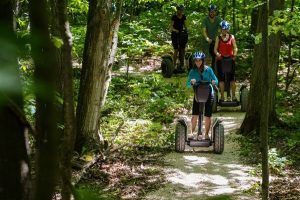 "But….But where is the dessert?" you naively and correctly think. I'll tell you where the dessert is: we're doing a full circle back to base camp for some hot tub and beach play while gazing at some sunsets. What a perfect way to end an outdoor day!
After-Dinner Mint
If your adventure-belly is still grumbling for more good times, know that golf, village community activities, and kareoke are just around the corner. Even if nobody is hosting kareoke that night, just start your own. It's called singing. And you will want to do it all day long here, as you'll be filled to the brim with happiness and some of it is bound to spill out.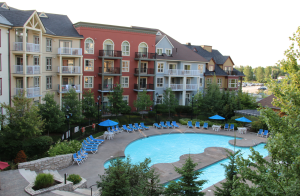 So don't spend your ninety days of summer inside! Get out there are get to know your ski mountain in a whole greener (and warmer) way.
Note to self: don't write blogs when hungry.