Kensington Market is one of Toronto's most iconic, vibrant, and multicultural neighbourhoods. Located in the heart of the city's downtown, the market features colourful shops, cafes, bars, grocers, eclectic art, and often street musicians and buskers.
Contributing to Kensington Market's multicultural and colourful nature its history as being a landing place for immigrants to the city from around the world. In the early 20th century, the area was densely populated by Eastern European Jewish immigrants who owned small shops selling groceries and imported goods (Kensington is still referred to as "the Jewish market" in Chinese and other languages). Most of the Jewish population moved north to more prosperous neighbourhoods after the Second World War, making way for new immigrants from Europe, the Caribbean, and Asia to make a home in the market. Each wave of immigrants has brought with it new products, flavours, and unique characteristics to the neighbourhood.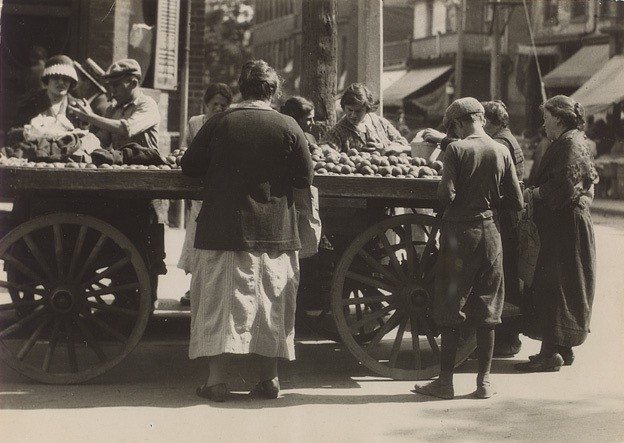 My mom and dad immigrated to Canada in 1982 (from Singapore) and 1973 (from Hong Kong) respectively. Upon completing university in Windsor, Ontario, they moved to Toronto where they eventually found work at John's Cheese House in Kensington market. They took over the business in the late 1980s and renamed the store Cheese Magic. About a decade later, they opened My Market Bakery, which, along with the cheese store, became two of the market's most iconic shops. Sadly the bakery sold its last loaf of bread two years ago, but you can still enjoy a huge variety of yummy cheeses at Cheese Magic.
I was fortunate enough to grow up in Kensington Market. I have seen many stores come and go, as well as experienced many changes in the market (such green grocers being replaced by cafes and restaurants, younger people moving in, fewer families shopping, etc). One thing that has stayed the same, however, is Kensington's multicultural, eclectic, and vibrant nature. Never is there a dull moment and a trip to Toronto is definitely not complete without a visit to the market. Here are some of my favourite spots in the market for those traveling on a student budget:
Food
Cheese Magic
182 Baldwin Street
(Yes, of course I will shamelessly promote a visit to my mom's awesome cheese store.) With other 200 kinds of delicious cheeses from around the world, cold cuts, and crackers, you can put together a great snack. Or grab a bun from Blackbird bakery just five doors down and you've got yourself a yummy sandwich for under $3. My recommendation: a few slices of Jalapeño Jack cheese with spicy salami or Mortadella on a bun…the best!
Rasta Pasta Jerk Chicken
61 Kensington Ave
For $5 for the jerk chicken lunch special, this is probably one of the best bangs for your buck as a lunch option in the market if you're a meat eater. It's definitely one of my favourite meals in the area.
Golden Patty
187 Baldwin Street
Most people go in for a Jamaican beef patty, but my favourites are the Callaloo (a spinach patty) and ackee and salt fish patty. Both are about $2 each and you'll need two to fill you up for lunch.
Moo Frites
178 Baldwin Street
Amazing Belgian style fries with dipping sauces (my favourite is their Joppie sauce) for $5-7… not the healthiest option, but a great snack to share with friends.
Other local suggestions:
Courage My Love
14 Kensington Avenue
This store sells vintage clothing, jewelry, and other trinkets from around the world for very affordable prices. Definitely worth a visit if you like treasure hunting for cool stuff. There are lots of other neat vintage places along Kensington Avenue as well.
Cafes
If you'd like some time to rest and relax with a cup of coffee, my top suggestions are Jimmy's Coffee (191 Baldwin Street ) and Moon Bean Cafe (30 St Andrew Street ). If you're not a coffee drinker, I recommend Moon Bean Cafe's London Fog and Chai Latte.
Dreamland Hair Salon
 Located at 7 Kensington Ave, just north of Dundas Street, this is where I go (and recommend to all my friends) to get their haircut. $8 for men and $10 for women is probably about the best deal you'll find in the city – and they do a great job. And if you get the "wash, cut, dry" option, you'll also get an awesome head massage by the hair dressers. If you have extra time in the market and feeling like a new do / head massage, this is the place for it!
Pedestrian Sundays
From May-October, the streets of Kensington Market are taken over by pedestrians, vendors, and buskers every last Sunday of the month. The market is always bustling on these days with good vibes and activities, so if you're in town then, be sure to stop by and check it out!
By Xing Brew