Evolve Tours Culinary Night – Recap
On March 30, 2017 Evolve Tours staff and teachers from the GTA got together for a special evening. The first ever Evolve Tours Culinary Night went down.
We invited traveling teachers to participate in a fantastic opportunity to develop culinary skills, and expand their knowledge of Peruvian cuisine.   Teachers enjoyed a cooking demo with Peruvian dishes while learning more about the complexity of this culinary culture that draws influences from the  Inca  indigenous people, the  European immigrants (Spanish, Italian and German),   Asia (Chinese and Japanese)  as well as  West African.  This authentic cuisine has taken fusion to a new level!
What was on the Agenda?
The night was filled with delicious food, Pisco Sours and Chilean wine. Check out the video Recap.
About the Chef ~ Ruben Guayasamin
We had the pleasure of having Ruben Guayasamin as out guest Chef. Below is brief bio about his work.
Ruben is classically trained in French cuisine, having completed an apprenticeship under chef Albert Ponzo at Le Select Bistro, and working for many years in the kitchen of this iconic Toronto French Bistro. His training is augmented by his various stagiaires with notable Chefs such as Rob Gentile of Buca, and working in top Toronto restaurants such as Nota Bene and Mark McKewan's Bymark. Guayasamin's interest in Peruvian cuisine stems from his childhood love and familiarity with the fare of his ancestors at the neighbouring Ecuador.
This interest resulted in a job at the newly constructed Astrid y Gaston Casa Moreyra, where he worked for the pioneer of modern Peruvian cuisine, Gaston Acurio, who's restaurant has made and influenced other restaurants to make the San Pellegrino's Worlds Top 50 Restaurants list for the last several years. At Astrid y Gaston,
Guayasamin discovered the modern interpretation of Peruvian food, interpreted by Ferran Adria's El Bulli alumni Diego Muñoz, who's brigade was headed by notable chefs from Spanish hallmarks such as El Celler de Can Roca and Mugaritz. This modern approach to Peruvian fare was further explores in a stage at Virgilio Martinez's Central, and various short apprenticeships in Lima such as Maido, Malabar, and Chez Wong.
It was in returning to Toronto where Ruben Guayasamin learned traditional Peruvian cooking methods, working as the sous chef at, the now defunct, Pisco, under Lima native Rocio Licera. Guayasamin now works as an educator, promoting Latin American gastronomy here, in Canada and throughout North America.
Recipes from XYZ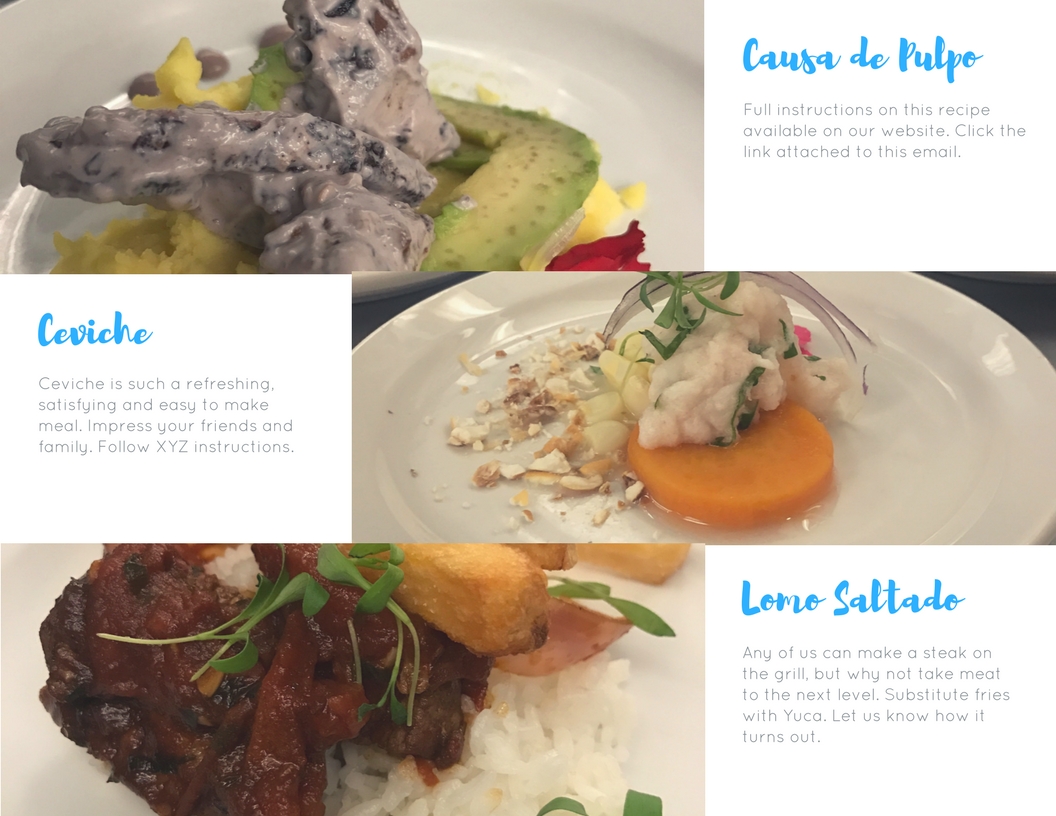 2 lbs tilapia fillets or 2 lbs other firm white fish fillets, cubed
8 -10 garlic cloves, chopped
1 teaspoon salt
1⁄2 teaspoon black pepper
2 teaspoons fresh cilantro, chopped
1 habanero pepper, seeded and chopped (or real Peruvian Aji Amarillo, if you can find it)
8 -12 limes, freshly squeezed and strained to remove pulp, enough to cover fish
1 red onion, thinly sliced and rinsed
Combine all ingredients except red onion and mix well.
Place red onion on top and let it marinate in the refrigerator for at least 2-3 hours before serving.
Before serving, mix well and serve with lettuce, corn, avocado or other cold salad vegetables on the side.
It is important to use a juicer that presses the juice out of the limes, not one that will tear the membrane of the lime sections since this will make the lime juice bitter.
Causa de pulpo al olivo:
Ingredients:
3.5 lbs of octubus
15 black olives (prepare the black olives by pitting them)
3 tablespoons of key lime juice
1 ¾ cup of olive oil that will be used to prepare mayonnaise.
2 tablespoons of parsley (prepare parsley by mincing it)
2 eggs
Salt and pepper
3 tablespoons of olive oil (this will be used for decoration/finishing touches)
Preparation:
Put all he octopus in a pan and cover all of it with water. Bring the water to a boil for 30-40 minutes or until the octopus is soft. Once it is done remove the octopus from the pan.
Take out the dark skin of octopus using a knife and then refrigerate it.
To make the mayonnaise in a blender mix the eggs, salt, lime juice and pepper. While you are mixing these ingredients you will want to pour in olive oil while stirring to form the mayonnaise.
With the mayonnaise that was just made, take half of it and set it aside.
Add olives to the blender and continue to blend. You will want to mix the reserved olive oil in at this point.
Cut the octopus into slices and place them on a dish. Cover the octopus with olive oil and garnish it with the minced parsley.
Lomo Saltado:
1 1⁄2 tablespoons crushed garlic
1⁄2 teaspoon salt
2 teaspoons cumin
1 1⁄2 teaspoons ground black pepper
2 tablespoons rice vinegar
2 tablespoons soy sauce
2 tablespoons canola oil
Stir-Fry
1 1⁄2 lbs beef tenderloin, cut into strips (or some other tender steak)
2 medium red onions, cut into strips
1 (15 ounce) can diced tomatoes, drained
salt & pepper, to taste
1 -2 jalapeno pepper, cut into strips
1⁄4 cup fresh cilantro
4 potatoes, peeled & cut into strips
1⁄2-1 teaspoon paprika
canola oil, for frying
Make a paste by combining the garlic & salt. Whisk together the garlic paste, rice vinegar, soy sauce, canola oil, cumin, & ground black pepper.
Place the steak in one bowl & the onions in another. Divide the marinade between the 2 bowls & let set in the refrigerator for at least an hour.
Pour a small amount of oil in a wok & turn on medium heat. Once the oil is hot add the steak with marinade & cook until brown. Add the tomato & simmer for a few minutes.
Add the jalapeño, cilantro, & onions with marinade to the wok, slowly stirring until well blended. Simmer for 5 more minutes.
As the ingredients are cooking in the wok, sprinkle the potatoes with paprika & fry in a separate pan. Once done add to the other ingredients.
Serve with a dish of white rice.